Norfolk's Leading Buy To Let Experts Come Together To Present Two Free Roadshows For Potential Investors
22nd May 2015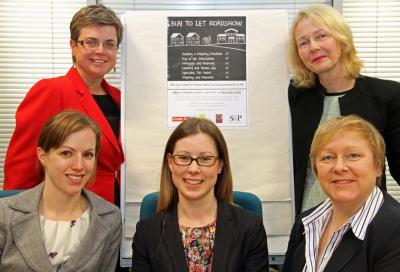 Aspiring property investors can tap into an unrivalled bank of expertise at two special Buy To Let Roadshows being presented by some of the county's leading experts next month.
The free roadshows will allow potential landlords to access top quality advice on all aspects of becoming a residential landlord, from financing and buying the right property, to legal and tax implications.
The four firms presenting at the roadshows will be property services firm and residential lettings agency Arnolds Keys, chartered accountants and tax specialists M+A Partners, leading local legal firm Clapham & Collinge and independent financial advisers Smith & Pinching.
The roadshows will feature presentations on subjects as diverse as
Building a property portfolio
Buy to Let Investment
Mortgage and financing
Landlord and tenant law
Specialist tax advice
Property and Pensions
"Buy to Let remains a very popular form of investment in an era of very low bank interest rates," said Arnolds Keys partner Jan Hÿtch, one of the speakers at the events.  "Get it right, and it can give an excellent return.  But there are many pitfalls for the inexperienced, which is why it is so important to take proper advice before taking the plunge.
"There are so many aspects to becoming a residential landlord, from the legal to the tax implications, as well as securing the right finance, structuring your investment in the right way, and choosing the right kind of property.
"These roadshows bring together a great team of experts who have been involved in the Buy To Let market since its inception, and so can offer the most comprehensive overview of Buy to Let in Norfolk – and their expertise is available for free."
As well as the presentations, there will be the chance for one-to-one advice sessions with the teams from the four participating firms.
The roadshows take place on Tuesday 9th June at St Andrew's House, St Andrew's Street, Norwich, and at The Atrium in North Walsham on Tuesday 16th June.  Both events run from 6pm-8pm.  Attendance is free, but places must be booked in advance; to reserve a place, contact Alex Atkinson at Arnolds Keys on 01603 216812 or via email at alex.atkinson@arnoldskeys.com, stating which of the two roadshows you would like to attend.