NORFOLK WOMAN WHO IS LOSING HER SIGHT REINVENTS HERSELF AS YOGA TEACHER FOR VISUALLY-IMPAIRED PEOPLE
8th Feb 2019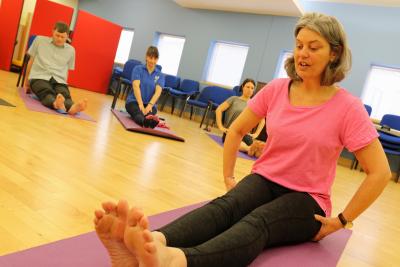 A Norfolk businesswoman is refusing to let the fact that she is losing her sight defeat her – and is training to become a yoga teacher for other visually-impaired people.
Angelique Weatherby, who worked in Norwich shops John Lewis and Clement Joscelyne before starting her own interior design business, started losing her sight three years ago after an inherited eye condition began to get worse. 
In 2017, with her sight deteriorating and forced to give up her driving licence, she had to close her business – but now she is bouncing back, with the help and support of the Norfolk & Norwich Association for the Blind.
With the backing of her husband and three adult children, she has taken her love of sport and turned it into a new career, which will in turn help others who are living with sight loss.
"My business was very visual, so when my sight started to deteriorate and I realised I could no longer carry on with what I was doing, it was a bit of a mid-life crisis," said Ms Weatherby.
"I'm an optimist by nature, so I thought 'OK, this is not how I would have wanted it to be, but we are where we are, so let's get on with it.'  I'm lucky that the combination of my positive outlook and the support of my family meant I didn't sink into a dark place."
As part of her training, she has been running yoga classes at the NNAB's Norwich headquarters, with participants a mixture of sighted and visually-impaired people.
"As I started to lose my sight, I got involved in the various sports activities which the NNAB runs, including cycling and sailing.  I realised that I could take my love of yoga and specialise in teaching it to visually-impaired people.
"I'm lucky in that I have a good visual memory, but I soon came to realise that explaining yoga positions to someone who has never had that visual memory is an altogether different challenge.  That is why it has been so important that so many people at the NNAB have agreed to be my guinea pigs, enabling me to gain the experience I need."
Ms Weatherby was born with a hereditary eye condition which meant she started to lose her sight about three years ago.  She now has no sight in her right eye, retaining some residual sight in her left eye. 
But she refuses to be downbeat about the situation, and is determined to move forward.  "I have been incredibly lucky with the support I have had, both from my family and from the NNAB," she said.
"My ambition now is to create something which helps me live a fulfilled life, but which also helps others in a similar situation feel good about themselves."