NORFOLK WOMAN CELEBRATES 105TH BIRTHDAY
14th Jul 2019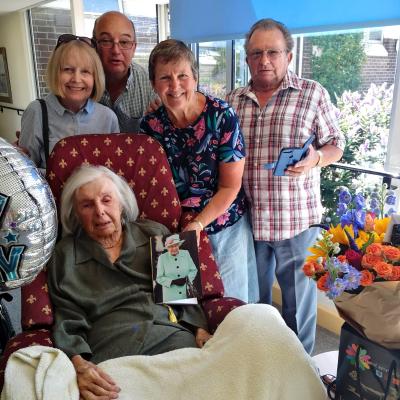 One of Norfolk's oldest residents has celebrated her 105th birthday – a milestone which means a second telegram from The Queen.
Doris Keating, who was born in 1914, before the First World War started, is the oldest resident at Thomas Tawell House, the Norwich care home run by the Norfolk & Norwich Association for the Blind.
She celebrated the landmark at the home, surrounded by members of her family – she has two children, three grandchildren and eight great-grandchildren.
Born in Tamworth in Staffordshire just weeks before the Great War started, Doris spent her early years in Essex, before moving with her husband to Birmingham in 1942. In the mid 1970s she retired to Bridport in Dorset, only leaving there to live at Thomas Tawell House when she was 101.
She worked in the Civil Service, and then later in life became a teacher.  During her retirement in Bridport she was very active, helping at award-winning furniture maker John Makepeace's woodworking school and getting  involved in the local arts scene.
Amanda Skinner, manager at Thomas Tawell House, said, "Despite her advanced years, Doris has an active mind and a lovely sense of humour, and we are delighted to be celebrating her 105th birthday with her."
On reaching the landmark, Doris received a second telegram from the Queen, having first received one on her 100th birthday.  She will now receive a further telegram from Her Majesty on her birthday every year.