NORFOLK HOUSING PROVIDER NAMED AS ONE OF TOP TEN HOUSING ASSOCIATIONS TO WORK FOR IN THE UK
17th Jun 2021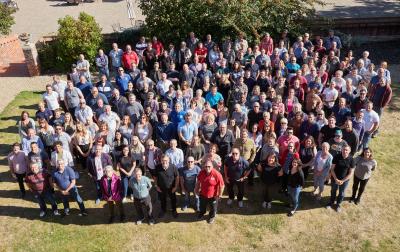 A Norfolk-based social housing provider has been named one of the Top Ten Best Housing Associations to work for – and is also rated amongst the top 100 large employers in the UK overall.
Broadland Housing Association, which has 247 staff across the county, has also received a two star 'Outstanding' rating in the annual Best Companies listings, widely regarded as the most comprehensive UK-wide survey of employer quality.
The organisation was rated as the seventh best housing association to work for in the entire UK, in an exhaustive appraisal which includes employee wellbeing, pay and benefits, personal growth, teamwork and leadership – all of which is assessed via a confidential survey which all staff were invited to complete.
"I'm really pleased that this is how our staff have assessed us," said Broadland Housing chief executive Michael Newey.  "The Best Companies survey is 100 per cent confidential, which means the leadership group and our board members can be sure that this result is accurate.
"Our two star rating is our highest ever accreditation; the top of the scale is three stars ('World Class'), so we won't be resting on our laurels, but will continue to strive to do even better."
The Best Companies to Work For list was launched in 2001, and is now recognised as the most comprehensive UK-wide survey of workplace engagement.
The organisation behind the list says, "When people are engaged they feel connected to each other and to the aims of the organisation they work for.  They believe in a shared purpose and feel they play an important part in fulfilling it.
"An engaged workforce is more motivated and productive because people take pride in what they are doing and have faith in those around them. This leads to better working relationships, greater collaboration and ultimately a more successful organisation."