NORFOLK COTTAGE HOLIDAYS BUSINESS RELAUNCHED AND REBRANDED
4th Feb 2019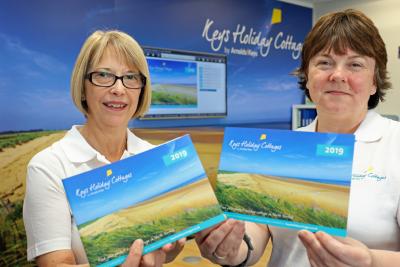 A Norfolk self-catering holiday business has been relaunched and rebranded as it eyes expansion to take advantage of growing demand for cottage holidays in the county.
Keys Holidays, which has been marketing self-catering holidays in the north of the county since the 1970s, has become Keys Holiday Cottages, and has launched a big new marketing campaign for the 2019 season, with the aim of attracting a wider demographic of holidaymaker to Norfolk.
The firm, which became part of independent Norfolk property services firm Arnolds Keys in 2012, is now looking to expand its operations from its core north Norfolk geography into Broadland.
"This move sees Keys Holiday Cottages establish its own strong identity as a holiday business, alongside its roots as part of one of the area's longest-established and most respected property firms," said Louise Hillman, manager of Keys Holiday Cottages.
"Our new branding recognises that for a new generation of holidaymakers, the experience of the holiday is every bit as important as the property itself.  Our new brand represents joy and adventure, and the freedom and fun our holidays offer.
"Although our portfolio of properties covers a range of types from traditional country cottages to contemporary apartments, for modern holidaymakers the word 'cottage' has come to represent an image of an aspirational, quintessentially English type of holiday."
Keys Holiday Cottages currently has a portfolio of nearly 100 holiday properties from Weybourne to Mundesley.  The business is based in Sheringham.  More details at www.keysholidaycottages.co.uk.