NORFOLK AUCTION HOUSE TO RE-START SALES PROGRAMME, USING CUTTING-EDGE TECHNOLOGY TO OPERATE REMOTELY
21st Apr 2020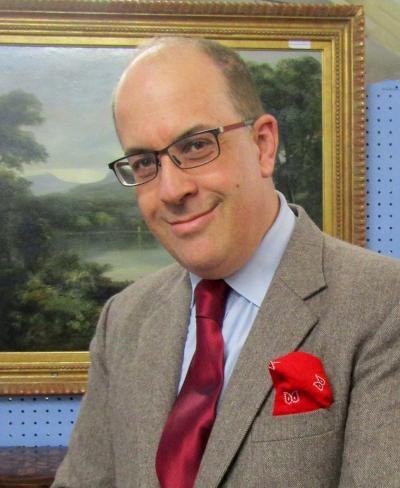 A Norfolk auction house is to re-start its programme of Antiques and Fine Art sales after a month's pause – using industry-leading technology to conduct auctions remotely.
Keys Auctioneers and Valuers, in Aylsham, has announced an initial programme of four online-only sales starting on 29th April, including its world-renowned East Anglian Art Sale, which attracts bidders from all over the world.
Keys has invested heavily in online bidding technology, including its KeysLive live internet bidding platform, and it is this which is enabling the firm to start sales again. The technology uses live video streaming and real-time online bidding, which means that no-one is actually in the room when the sale takes place.
In fact, Keys director Tim Blyth will conduct the auction from his home, with the sale administered by other Keys staff remotely from their own homes.
The four sales already announced are:
Wine, Ports and Spirits Sale on Wednesday 29th April, with over 150 lots of wines, champagnes, spirits and whiskies
Online Picture Sale on Thursday 30th April, with paintings, watercolours and prints
The East Anglian Art Sale on Tuesday 12th May, with 122 lots including works by Norwich School artists John Sell Cotman, John Crome and Henry Bright; still life specialist Eloise Stannard; and renowned landscape artists Campbell Archibald Mellon and John Arnesby Brown.
Antiques, Collectables and Art Sale on Saturday 16th May
Further sale dates will be announced in coming weeks, including Books, Medals & Militaria, Jewellery & Silver, and Railwayana
"When the lockdown first started, we paused our activity while we reviewed how we could operate in a way which is completely safe for our staff and customers," said Keys director Tim Blyth.
"Because we have been ahead of the technology curve for some years, and have a large national and international customer list, we are in a position to operate live online auctions, and I am looking forward to taking to the rostrum, hopefully in the garden, and interacting with dealers and collectors from all over the world as our sale programme starts up again."
Keys is also conducting online valuations and virtual consignments for future sales – with lots to be collected once it has been deemed safe to relax the lockdown.
Full details of the new programme of sales at Keys Auctioneers and Valuers can be found at www.keysauctions.co.uk; the firm's online bidding platform is at bid.keysauctions.co.uk.