NINE INTREPID VISUALLY-IMPAIRED NORFOLK PEOPLE CONQUER THE O2
4th Jun 2018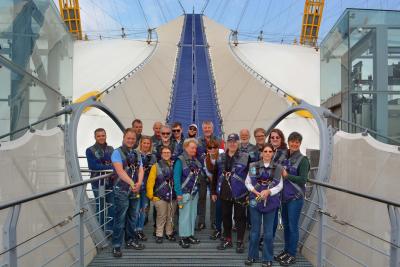 Nine intrepid visually-impaired people from Norfolk have taken on the challenge of climbing the O2 in London – clambering up 30 degree slopes to reach the 52 metre (170 foot) high platform above the iconic dome.
The nine – accompanied by nine members of staff and volunteers from the Norfolk & Norwich Association for the Blind – undertook the challenge to raise money for the NNAB, which supports visually-impaired people throughout the county to live independent and fulfilled lives.
The ascent and descent took two hours in total.  Kitted out in climbing suit, boots and harness, the 'urban mountaineers' climbed the specially-designed walkway from one side of the dome to the other, walking on a suspended walkway.
"It was a really good experience," said Ed Bates, who works at the NNAB and is himself completely blind.  "I love to do things I haven't had the chance to do before.
"Climbing the dome was a lot different to what I expected.  The walkway is suspended, so it's like walking on a trampoline.  You also have to keep feeding your rope through the harness, which is tricky when you can't see what you are doing, but it felt a real achievement to reach the top.
"I suspect it was less scary for me than for those who can see, as I couldn't really tell how high up we were.  I asked one or two of the volunteers to describe the view, but they didn't really want to look down!
"I was a bit nervous before we set off, but it was a brilliant experience, and I would certainly do it again."
Mr Bates undertook the O2 climb as part of a double challenge in 2018.  In August he will take part in the 10km Run Norwich event, also to raise money for the NNAB.  In previous years he has taken part in a tandem skydive, and completed the Tour de Broads bike event on a tandem.
Anyone wishing to sponsor ED for his double challenge can do so by visiting https://uk.virginmoneygiving.com/EdwardBates1.