NEWLY-DISCOVERED ANNA ALMA TADEMA PICTURE TO GO UNDER THE HAMMER
8th Nov 2018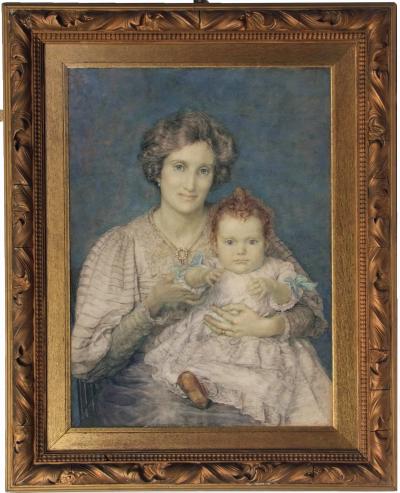 A newly rediscovered painting by Anna Alma Tadema is to go on sale at Keys Fine Art Auctioneers in Norfolk – post-dating the most recent of her known works by four years.
'Baby's Throne', a 73cm x 52cm watercolour, was painted in the spring of 1906, and has been in the possession of the family of the subject ever since.  It is up for auction in Keys' Winter Fine Sale on Thursday 29th November, with a pre-sale estimate of £20,000-£30,000.
Tadema, who lived from 1867 to 1943, was the daughter of Dutch artist Sir Lawrence Alma Tadema.  She is known to have continued to work well into the 20th century, but many of her paintings are unaccounted for.  Prior to this discovery, the most recent of her known works was 'Girl in a Bonnet with her Head on a Blue Pillow', painted in 1902 and currently on display at the Ashmolean Museum in Oxford.
The picture depicts Louisa Forbes Robertson and her daughter Olivia, wife and second-born child of Sir Norman Forbes Robertson, a leading actor of the late 19th and early 20th century, and brother to the equally famous Johnstone.  Sir Norman commissioned the painting for his family, close friends of the Alma Tadema family, and it was exhibited at The New Gallery Summer exhibition in 1906.
The work is being sold with an album containing many original photographs dedicated to baby Olivia, and within which is a pencil drawing of her, signed 'Anna Alma Tadema', which is believed to be the preliminary sketch for the work.  Alongside this is a second album containing photographs dedicated to Olivia, an autographed photograph of Sir Lawrence Alma Tadema and his wife thanking the Forbes Robertsons for a 'pleasant lunch at The Stocks', and three black and white framed photographs of Louisa, Olivia and her older brother.
"This is an important discovery which has been in the private hands of the Forbes Robertson family since it was painted," said Keys head of fine art Kevin Lines.  "It is always exciting when previously unknown artworks come to auction, and we are expecting considerable interest in what is a rare lot with a fascinating history."
The Keys Winter Fine Sale also features a work by notable English landscape painter Thomas Sidney Cooper (1803-1902).  Entitled 'A Summer's Day', the 44cm x 60cm oil on panel picture is a typical depiction of livestock in a pastoral setting.  It has a pre-sale estimate of £6,000-£8,000.
Keys three day Winter Fine Sale takes place on Tuesday 27th November, Wednesday 28th November and Thursday 29th November at the firm's salerooms in Aylsham, Norfolk, and live on www.the-saleroom.com.  Pictures are part of the last day of the sale.  More details at www.keysauctions.co.uk.