NEW NORFOLK BUSINESS PLUGGING INTO ELECTRIC VEHICLE TREND
5th Apr 2019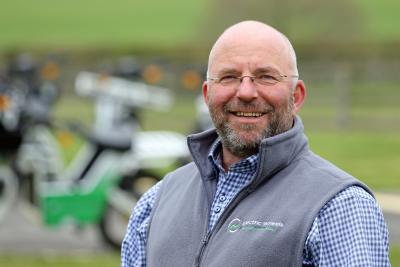 A new Norfolk business is aiming to capitalise on the burgeoning electric vehicle market by being the first in the UK to offer all-terrain electric utility motorbikes for long-term and short-term hire.
Electric Wheels, based in Little Cressingham, is offering the almost silent 2x2 work bikes for use in the agriculture, tourism conservation, event management, estate management and recreation sectors.
The company has taken delivery of its first consignment of 25 bikes, and has already had interest from as far afield as Cornwall and Scotland.
The enterprise is the brainchild of Chris Hurdle, who runs a successful event management business.  He came across the New Zealand-developed bikes while on a family trip to the country, and he subsequently purchased one for use within his business – its first outing being at the Hampton Court Flower Show.
"Increasingly businesses in all sectors are thinking about the impact their activity has on the environment, and it is clear that electric vehicles' time has come.  But the options in the utility market have been very limited up until now.
"The Electric Wheels bikes solve all sorts of problems: they are practically silent, they have zero emissions, they are all-terrain, and they are easy to use – if you can ride a bicycle, you will be able to ride the Work Bike.
"We are already seeing interest from a wide variety of potential users, from country estate managers and staff, construction site managers, farmers and security staff.  In the events world, there are all sorts of applications, from medical staff using the bikes to get to incidents, to technical staff needing to get around a large site."
The electric utility Work Bikes, which do not have pedals, feature two-wheel drive to enable all-terrain use, and are available with a range of accessories such as load platforms, luggage boxes and even flashing blue lights.  They can carry up to 150kg, have a 75 mile range from a six hour charge, and can travel at speeds of up to 30mph.  They are not currently road-legal in the UK, being designed for off-road use.
Future plans include expanding the Electric Wheels hire fleet with other types of zero emission vehicles.  "We continue to be excited by the rapid growth and innovation in the world of electric transport," said Mr Hurdle.  "Our aim is to grow our hire fleet by sourcing cutting-edge machines, whether on two, three or four wheels – and hired out for a few days, a few months or indeed a few years."
Full details on the new company can be found at www.electricwheelshire.co.uk.