MEISSEN COMMEDIA DELL' ARTE GROUP AND BOW KITTY CLIVE FIGURE AMONGST CERAMICS HIGHLIGHTS IN KEYS SUMMER FINE SALE
15th Jul 2020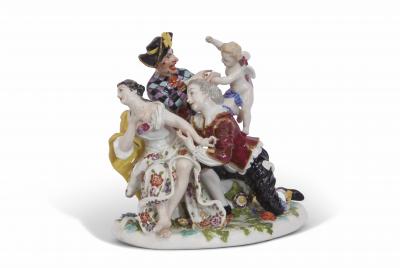 A rare and important Meissen Commedia dell' Arte group 'The Impetuous Lover' dating from around 1745 is one of the ceramics highlights in Keys Auctioneers and Valuers' Summer Fine Sale at the end of this month.
The group, modelled by J Kandler, depicts an amorous young man courting a shepherdess who turns away from his advances, while Cupid rides on the back of the young man pulling his hair in an apparent attempt to restrain him, at the rear of the figure is a Harlequin with a malevolent grin who appears to be gesticulating to the Cupid spurring him on. 
It may have been the inspiration for a similar group titled 'Le Jaloux' modelled at Sèvres and a Nymphenburg group of Der Sturmische Galan without the harlequin, modelled by Bustelli.
The piece has a pre-sale estimate of £25,000-£30,000.  It is one of six Meissen pieces in the sale, with others including a rare octagonal sugar box and cover from circa 1730 (estimate £3,500-£4,000) and a coffee pot and cover with Tau handle circa 1740 (estimate £2,000-£2,500).
Meanwhile, a mid-18th century mid-18th century Bow porcelain figure of Kitty Clive in the character of "The Fine Lady" from David Garrick's farce 'Lethe' is another ceramics highlight of the sale, with a pre-sale estimate of £10,000-£12,000.
Keys Auctioneers and Valuers Fine Sale takes place on Wednesday 29th July and Thursday 30th July online at bid.keysauctions.co.uk.  The full catalogue is available online now.