LOWESTOFT FIRM'S STAFF STEP OUT IN TORRENTIAL RAIN TO RAISE MORE THAN £15,000 TO SUPPORT COLLEAGUE WITH RARE ILLNESS
11th May 2021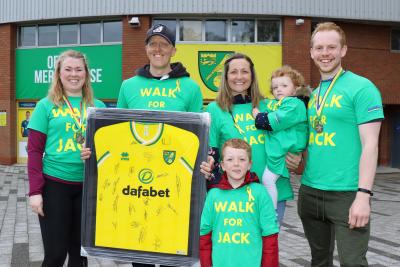 Big-hearted staff at a Lowestoft construction firm braved blisters and torrential rain as they stepped out on an epic sponsored walk to raise money to support a colleague who is suffering from a very rare form of cancer – and raised over £15,000 in the process.
Twenty-one staff members from Wellington embarked on the challenge of walking from the firm's headquarters on the Quay View Business Park in the town to Norwich City's Carrow Road ground in Norwich – a distance of 33 miles.
The event was to raise funds to support colleague Jack Harper, who is suffering from the very rare cancer angiosarcoma, and his family.  Mr Harper, his wife Fiona and children Arthur (5) and Agnes (2) were at Carrow Road to welcome the intrepid walkers.
The challenge took place on Saturday (8th May), one of the wettest days of the year, and the team had to brave monsoon conditions as they undertook the marathon 12 hour trek.
"This has been a bigger challenge than any of us expected," said quantity surveyor Elli Cooper, who organised the walk with colleague Mark Bellamy.  "We all used every single spare pair of socks, but still ended up with wet feet and blisters.
"We were determined to complete the challenge to show our support for Jack.  We are a very close-knit team at Wellington, and everybody wanted to make the effort to raise money to help pay for his complementary treatment and support his family."
Mr Harper was diagnosed with angiosarcoma in November 2020, and has undergone open heart surgery at Papworth.  He is currently undergoing chemotherapy.
He said, "I cannot put into words the level of support I have received from my colleagues at Wellington.  I couldn't work for a better company.  To see my colleagues put themselves through such a tough challenge as this, in torrential rain, is really humbling.  My family is so grateful."
The walk has already raised over £15,000, including money donated spontaneously by passers-by during the walk itself.  Anyone wanting to contribute to the fund can do so by visiting www.gofundme.com/walk-for-jack.