LOCAL CHOIR TO PERFORM SPECIAL CONCERT FOR VISUALLY-IMPAIRED PEOPLE
20th Oct 2019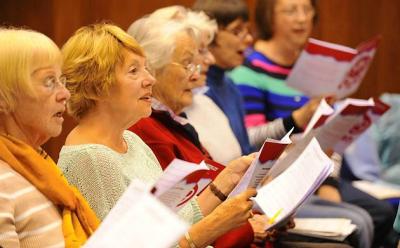 Visually-impaired people will have the opportunity to listen to inspiring choral music at a special concert taking place on Thursday 24th October, when The Cringleford Singers perform at the Norfolk & Norwich Association for the Blind's Bradbury Activity Centre in Norwich.
The all-female choir will be bringing their varied repertoire, which ranges from classical to jazz, folksongs to selections from musicals, to a special performance for those living with sight loss (although anyone is welcome to attend).
The choir, which has been performing in and around Norwich for 45 years, gives around 20 performances a year in a variety of venues, from sheltered housing schemes, churches, halls and even supermarkets.  It raises around £3,000 each year for local charities.
"Music is so important to many visually-impaired people, and so it is a real pleasure to welcome back the wonderful Cringleford Singers to the NNAB once again," said Mark Smith, the NNAB's leisure activities co-ordinator.
The concert takes place on Thursday 24th October at 7pm at the NNAB's Bradbury Activity Centre at Beckham Place in Norwich.  Tickets cost £5, including a drink, and are available by contacting Mark Smith on 01603 973216, or emailing marksmith@nnab.org.uk.