LOCAL BUSINESSES CREATE NEW GARDEN AT LOWESTOFT SCHOOL IN MEMORY OF SAMANTHA
7th Dec 2015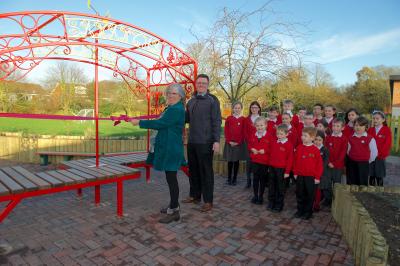 A new garden in memory of a six-year-old girl who died in a traffic accident has been unveiled at a Lowestoft primary school – thanks to the efforts of local businesses led by a Lowestoft-based construction company.
The garden has been created around 'Samantha's bench', a wrought iron seat installed at Gunton Primary Academy in 2007 in memory of Samantha Castledine, who lost her life as the result of an accident on the nearby A12.
Local company Wellington was seeking to sponsor a community project for 2015, and after considering suggestions from various local parties, decided to throw their weight behind the Samantha's bench project.
The company enlisted the help of other local firms to get the work done, and now the garden is set to be opened by Samantha's mother on Friday 4th December.
"When the school came to us with the idea restoring Samantha's bench, we jumped at the idea," said Wellington's commercial director James Denny.  "The bench clearly still means a lot to the school community, and we were in a position to create something really special to keep the memory of Samantha alive."
Wellington enlisted the help of Halesworth-based architects ASD and Great Yarmouth-based GDC Landscaping.  They worked with the School Council, made up of children from all year groups, to come up with ideas for the garden's design.
Meanwhile, Great Yarmouth-based Ro Co Steel Fabrications, which made the bench in the first place, agreed to take it back for a major refurbishment, and, local firms Travis Perkins, EE Green, Jewson, One Site/Lowestoft Tool Hire and Seletar Signs all donated materials for the project.
The result is a brick-paved area around the bench, allowing it to be used in all weathers, and a series of raised gardens including an alphabet garden made up of plants beginning with each letter of the alphabet; a rainbow garden featuring flowers ranging from red to violet, and a nature garden with plants to attract birds and butterflies.  The garden also features large chimes and bells, to allow the children to make music outdoors.
"We are a Lowestoft-based firm whose staff live and work locally, so it was a real honour to work on a project like this." said Mr Denny.  "The staff who worked on creating the garden have found the whole experience really worthwhile, and are very proud of what they have created."
Gunton Primary Academy head teacher Matthew Jordan said, "Samantha's bench has been a focal point of our playground since it was installed, and remains a popular place for the children to sit.  But because the area around it was never landscaped, it was very muddy in the winter.
"Now the bench is in a beautiful setting which will allow it to be used all the year round.  We are very grateful to all of the local businesses which contributed to the Wellington task force.  They have created something really special which will keep the memory of Samantha alive in the years to come."
Six-year-old Samantha Castledine was tragically killed in March 2007 when she was knocked down by a lorry on the main A12 Yarmouth Road at the junction with Hollingsworth Road.