INNOVATIVE EXHIBITION TO SHOWCASE VISIONS OF BLIND AND VISUALLY-IMPAIRED PEOPLE
9th Apr 2018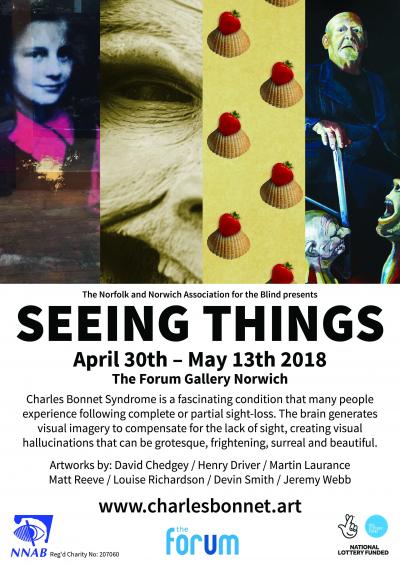 An innovative art exhibition in which seven local artists will represent the 'hallucinations' of visually-impaired and blind people suffering from a common but little understood condition is to be mounted in Norwich at the end of the month.
'Seeing Things' has been created by the Norfolk & Norwich Association for the Blind (NNAB) to help raise awareness of Charles Bonnet Syndrome (CBS), a condition thought to affect  well over 100,000 people in the UK.  The condition can affect people who lose a significant amount, or all, of their sight, and takes the form of vivid, realistic hallucinations, which are frequently bizarre or unsettling.
With the support of The Forum in Norwich, the NNAB has worked with seven leading local artists who have engaged with CBS sufferers to try and visualise their hallucinations.  The fascinating resulting exhibition will be on display in The Forum Gallery Space from 30th April to 13th May.
The artworks will take many forms; virtual and augmented reality, sculptural, digital, photographic, mixed media installations and portrait.  Accompanying the pieces will be an auditory description including extracts from a recorded interview with the sufferer whose hallucination is being depicted.
Gemma Baldwin of the NNAB, organiser of the exhibition, said, "We are aiming to illuminate and explain this strange and often misunderstood condition in an engaging and accessible way, as well as to destigmatise an eye condition which is often perceived as a mental health issue.
"It may seem counter-intuitive to use visual art to raise awareness of a condition which affects those who have lost a significant amount, or all, or their sight, but we felt this was a way in which we could bring CBS to the attention of the wider world.
"Charles Bonnet Syndrome is still largely unknown by visually-impaired people and the medical community alike, and yet it affects many thousands of people each year.  Understanding the syndrome makes it much less frightening for the sufferer.
"The NNAB Community Worker Team talks with hundreds of people every year about their CBS, and for many of them our initial chat is the first time they have heard of the condition.  They are hugely relieved that what they are going through can be so easily explained – most sufferers don't even mention it to family.
"I guess it's hard to explain that you can 'see' small Victorian children in the sink or a crocodile walking across the lounge."
The exhibition runs at the Forum Gallery Space from Monday 30th April to Sunday 13th May from 10am-4pm each day.  Admission is free.  More details at www.charlesbonnet.art.
The exhibition has been made possible with funding from the National Lottery Big Lottery Fund, Mills & Reeve Charitable Trust, the Forum and the NNAB.
Participating Artists
Charles Bonnet Syndrome
Charles Bonnet Syndrome (CBS) is a condition which can affect people who lose a significant amount, or all, of their sight.  The brain, deprived of visual stimulus, creates its own imagery and the 'sufferer' sees utterly realistic, vivid hallucinations.  These can take any shape or form, but are frequently bizarre, unsettling and wildly out of context, such as grotesque faces, people from different historical eras, or wild animals.
Many people experiencing CBS don't discuss it, even with family, for fear that they could be suffering from mental health problems.  However, once they know what CBS is, the fear and anxiety that it can generate are significantly diminished.  If the sufferer knows about CBS prior to its onset, they can understand that the condition is related to sight loss, and not a mental health issue.
CBS is still relatively unknown within the medical community, despite the frequency with which it occurs in sight loss.  Its prevalence is not fully understood, but it is thought that there could be hundreds of thousands of people living with the condition in the UK alone.  According to the Macular Society, up to half of those with macular degeneration - a gradual loss of central vision – may experience Charles Bonnet hallucinations at some time.
Charles Bonnet syndrome is named after an 18th century Swiss philosopher, scientist and writer. Charles Bonnet wrote about his grandfather's experiences after he lost his sight and began having "visions"; he could see patterns, people, birds and buildings, which were not really there.
More details about Charles Bonnet Syndrome can be found at
www.charlesbonnet.art/index.php/cbs-info
www.rnib.org.uk/eye-health-your-guide-charles-bonnet-syndrome-cbs/understanding-charles-bonnet-syndrome.
www.nhs.uk/conditions/charles-bonnet-syndrome  
www.macularsociety.org/visual-hallucinations
Note to Editors
Most of the artists taking part in the project are happy to be interviewed, and show work in progress prior to the exhibition.  The NNAB is also able to put forward several people living with CBS, in particular Mrs A, whose hallucinations are being represented in the exhibition by artist Devin Smith (who is also available for interview).  For further details, and to arrange an interview, please contact Andy Newman (contact details at the foot of this news release).
A special evening event will take place in the auditorium at The Forum on Tuesday 1st May, at which Dr Dominic ffytche, an international expert on the syndrome, and clinical senior lecturer at the Institute of Psychiatry, Psychology and Neuroscience at King's College London, will give a talk and answer questions.  Journalists are welcome to attend; places need to be reserved in advance.  Please contact Andy Newman (contact details at the foot of this release).