ICONIC NORWICH PUB TO REOPEN FOR TAKEAWAY ROTISSERIE CHICKEN
11th Nov 2020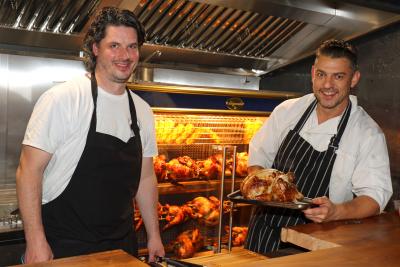 A Norwich pub which was just about to be reopened by two of Norfolk's leading chefs when lockdown was imposed will start offering takeaways this week.
The Chick Inn at Micawbers, on Pottergate in the city, has been renovated by Roger Hickman and Andy Rudd, head chef at Stoke Mill, and will offer rotisserie chicken cooked in a brand new rotisserie oven which has been installed at the pub, which has been closed since August 2019.
The new venture was due to open on 1st November, but that plan was scuppered by the announcement of a new four week lockdown until 2nd December.
Now the chefs, both of whom have offered collection menus from their respective restaurants during the Covid closures, are set to open for takeaway meals from Thursday to Sunday evenings.
"Because we are such a new business, we are not eligible for any of the government support during lockdown," said Andy Rudd.  "We have invested heavily in refurbishing this historic pub, and in the equipment to offer a really top quality rotisserie chicken offer, so we have decided to open for takeaways during lockdown – and we plan to open fully as soon as lockdown ends."
The takeaway menu features a range of chicken dishes, from 'The Mother Clucker' (a whole rotisserie chicken with fires and slaw) to 'Chicken Sees A Salad' (half a chicken with slaw, salad and caeser dressing.
Chick Inn at Micawbers will be open from 5pm – 8pm from Thursday to Sunday from Thursday 12th November.  Orders can be placed on Facebook (thechickinn92), via email at chick.inn@outlook.com, or by phoning 01603 961149 during opening hours.