HOUSING GROUP MUST CONTINUE TO 'STRETCH ITSELF' TO TACKLE HOMELESSNESS, CHIEF EXECUTIVE TELLS ANNUAL MEETING
7th Oct 2019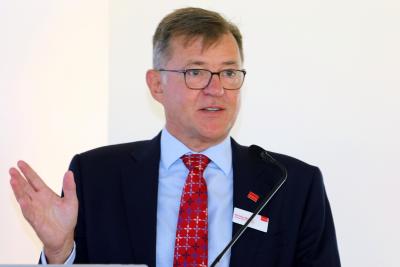 The chief executive of a Norfolk housing association has told its Annual Meeting that it needs to continue 'stretching itself' if it is to help tackle the UK's 'appalling' homelessness problem.
Michael Newey, chief executive of Broadland Housing Group, told the organisation's Annual General Meeting that it had completed 67 new homes in the year to March 2019 – and had another 259 under construction.
"Far too many people don't have homes in this country.  According to Shelter there are 268,000 homeless people in England, and that includes a terrifying number of children.
"We are in an appalling situation.  At the end of the day the solution to homelessness is bricks and mortar, and that's why we have to stretch ourselves to build more."
The Group's Annual Review shows outlines plans to deliver 291 new homes in the current financial year, with a further 172 in 2020/21, and 147 in 2021/22.  The housing association allocated 476 homes in 2018/19, of which 75 were let to homeless people, and further 131 to older people.
As part of the Group's pledge to tackle homelessness, it has signed up to the national 'Homes for Cathy' initiative, which entails taking on nine clear commitments, including introducing flexibility into the way it allocates homes, and meeting the needs of vulnerable tenant groups.
Mr Newey also told the meeting about the importance of the work of Broadland Housing's Tenant Support team, which helps tenants who are at risk of losing their homes.
"The team has supported nearly 400 tenants over the last year.  As a result of their work with those tenants, they have managed to bring in for those families a further £322,000 worth of benefits that they weren't getting beforehand, either by challenging incorrect DWP decisions or securing benefits that tenants were entitled to."
Looking to the future, Mr Newey outlined the Group's new strategy, which includes strengthened commitments on tackling homelessness, and a renewed focus on involving tenants in shaping the future of the organisation.
A copy of Broadland Housing Group's Annual Review can be downloaded from  www.broadlandgroup.org/about-us/governance-documents/agm-summaries, while its 2019-2023 Corporate Strategy can be found at www.broadlandgroup.org/about-us/governance-documents/corporate-strategy.