HOLT HOUSING WITH CARE SCHEME'S 20TH BIRTHDAY PARTY LED BY TWO CENTENARIAN RESIDENTS
17th Aug 2020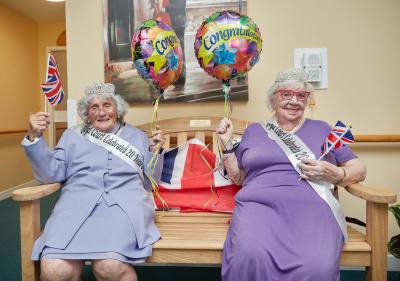 Residents of a housing with care scheme just outside Holt have celebrated the complex's 20th birthday – with the party being led by two centenarian residents.
100 year-olds Pattie Knopp and Marion 'Bubs' Wilkinson were named 'Party Queens' as they led the celebrations at Lloyd Court in High Kelling.
Opened in 2000, the scheme provides 40 self-contained flats, each with 24 hour access to care, allowing older people to live independently and yet still receive the levels of care each needs.
Residents and staff at the scheme joined Pattie and Bubs for a socially-distanced party to mark the milestone, with tea, cakes and entertainment.
"This is the only place I would ever go to live," said Pattie, who moved into Lloyd Court just under a year ago.  "I was brought up as a very independent person, but I like having company as well, so the combination of those things here is ideal for me. 
"It's the best of both worlds; you have got your independence if you need it, you can shut your front door – but you know the care is here if you need it."
That sentiment was echoed by ex-Wren Bubs, who has lived at Lloyd Court for more than four years and who celebrated her 100th birthday in June.  "My daughter said I should go into a nursing home, but my independence is very important to me," she said.  "I had seen Lloyd Court before when I used to visit a friend who lived here, so when I got a place here I was looking forward to moving in.
"I haven't been disappointed.  I have my own flat, but receive lots of help and support from the staff here; I regard every single member of staff as a friend.  And I love having the flat to myself."
Broadland Housing Association chief executive Michael Newey, who joined residents for the celebrations, said that marking the 20th anniversary of the scheme was important given the current restrictions.
"In conjunction with Norse Care, we took the decision to go into lockdown early at Lloyd Court, and the staff have worked so hard to keep residents safe.  It was difficult for residents not to be able to receive visits from their families, but all the staff have made a huge effort to keep everyone's spirits up, which we really appreciate."
Lloyd Court is operated by Norse Care in partnership with Broadland Housing Association.  The scheme was rated outstanding for its quality of care by the Care Quality Commission (CQC) in its most recent inspection, with an overall rating of 'Good'.
Following the easing of lockdown, Broadland Housing Association's eight Housing With Care schemes across the county are once again accepting applications from potential residents.  More details can be found at https://www.broadlandgroup.org/homes/rent-a-home/housing-with-care-needs.