FIVE NEW 'GIN AMBASSADORS' RECRUITED FOR GROWING NORWICH SPIRITS BRAND
27th Sep 2021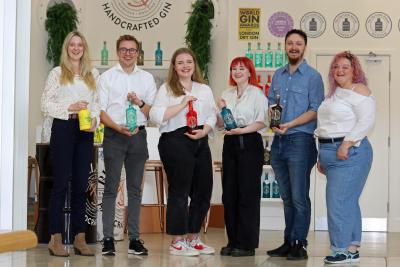 A new team of 'Gin Ambassadors' has been recruited to help promote a Norwich-made gin to a wider audience.
The five new recruits at Bullards Spirits will join Chief Gin Ambassador Tamsen Macro in leading product tastings and 'gin experiences' at the firm's Chantry Place shop and in its concession in Jarrolds department store in the city.  They will also act as the face of the prestigious brand to consumers and trade customers.
"We are delighted to have recruited a really talented and enthusiastic team of people who have a real passion for delivering exceptional customer experiences to be our proud ambassadors for Bullards Spirits," said Joe Evans, business development director at Bullards Spirits.
"Having invested in a bespoke store and gin tasting room at Chantry Place, and opened a dedicated Bullards concession in the hugely successful Jarrolds Deli, we needed a team of people who can really get across the 'Spirit of Norwich' aspect of our brand.
"At a time when there is considerable competition for people in the hospitality and retail sectors, it is an indication of the strength of the Bullards brand that we have been able to attract such talented people to be our brand ambassadors."
As well as their two Norwich outlets, Bullards last month opened an outlet in Westfield White City, and in the coming weeks will open two more outlets in the Covent Garden piazza, and at Canary Wharf.