COVID RESPONSE WAS HOUSING GROUP'S 'FINEST HOUR', CHIEF EXECUTIVE TELLS VIRTUAL ANNUAL MEETING
5th Oct 2020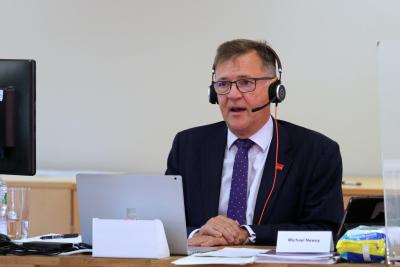 A leading regional housing association's response to the coronavirus pandemic has been dubbed its 'finest hour', with massive support for vulnerable tenants, a huge sanitisation programme, and a concerted partnership effort to provide safe places for homelessness people during lockdown.
Michael Newey, chief executive of Broadland Housing, outlined the organisation's response to the crisis at its Annual General Meeting, which was held largely online for the first time, in response to the Covid emergency.
Despite the pandemic, Broadland Housing delivered 288 new homes during 2019/20 including 171 for rental and a further 38 for shared ownership.  The organisation allocated 527 new homes during the year, of which 82 were let to homeless people, and a further 122 to older people.
Addressing fellow Board members in a socially-distanced meeting, and association members via video link, Mr Newey paid tribute to the way that staff had quickly adapted to a new way of working to ensure that tenants were kept safe.
"Our staff had to adapt quickly to a new way of working, and responded magnificently," he said.  "Because of this, we were able to put in place support for our tenants really quickly.
"As lockdown started, we phoned more than 1,000 of our most vulnerable tenants, to make sure they were alright, and to offer any assistance they might need.  As a result, 450 of those received ongoing help, from deliveries of food and prescriptions, to regular telephone calls to provide a friendly voice to those facing lockdown on their own.
"The way we responded to lockdown and Covid has been our finest hour as an organisation.  But we are still working through how we deal with the new normal."
Broadland Housing also played a key part in the 'Everybody In' campaign to ensure all homeless people had a safe place to stay during lockdown, and is working in partnership to provide permanent accommodation for homeless people.  It has already secured permission for 23 new homes in King's Lynn and West Norfolk and 13 in Norwich, and is well on the way to securing 36 more in Great Yarmouth.
Reflecting on a year which ended with the imposition of lockdown, Mr Newey was also upbeat about the performance of Broadland Housing prior to the emergency.
"On pretty much every metric, we have had a strong year.  We have accelerated our development programme; we carried out over 20,000 repairs including new bathrooms, kitchens, windows and heating systems; We installed solar PV panels on 55 of our homes; and we carried out adaptations in 38 properties to enable residents to stay living in their own homes.
"In addition, our Tenancy Support team worked with nearly 350 tenants, underlining our commitment not just to provide quality affordable homes, but to help people access the support they may need to maintain their tenancy."
Mr Newey said that it was difficult to predict what the immediate future would bring – but that Broadland Housing would remain committed to its core aims.
"For the last 25 years, everybody has been talking about having a '2020 Vision' – and yet none of us could have foreseen what this year would bring. 
"We have proven that we are equal to the challenges which have been thrown at us, and we will stay focussed on our core aims of providing quality affordable homes, supporting our tenants to live in those homes, tackling homelessness, and building as many new homes as possible."
Broadland Housing, which was established in 1963, provides 5,241 homes in Norfolk and north Suffolk.  A copy of the 2019/20 Annual Report can be downloaded from https://www.broadlandgroup.org/annual-reviews.