COMMUNITY PROJECT IS NOT A BRIDGE TOO FAR FOR LOCAL CONSTRUCTION FIRM
30th Sep 2019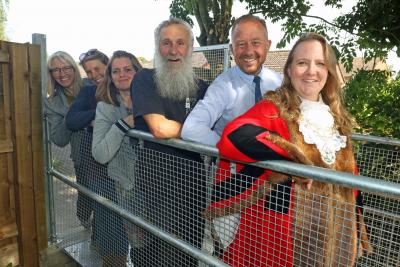 A local construction company has taken building bridges with the community to its logical conclusion – by building a bridge.
Lowestoft-based Wellington stepped forward to build the new structure to enable the creation of a community growing area on a piece of land in Beccles which was otherwise inaccessible because of a deep drainage ditch.
With no budget available to create an access point to the half-acre plot off Goose Green in the town, Wellington took on the task, working with its suppliers to build a secure gateway and metal footbridge which will enable the creation of the community amenity.
Now councillors are asking local people for ideas on exactly how the land can be used – with a community orchard or community garden among the suggestions already put forward.
The new footbridge was officially opened by Beccles mayor Andrea Downes, with the hop that the new community growing area will be open sometime next year.
"We are extremely grateful to Wellington for stepping in to help, their generous gesture has enabled this otherwise inaccessible piece of land to be brought into use as a community resource," said Ms Downes.
"The next step will be to clear several years' worth of brambles from the site, and then to ask local people exactly how they would like the land to be used, within the context of some sort of community growing project."
Handing over the new bridge, Wellington managing director Paul Pitcher said, "We enjoy stepping up to take on community projects, and we have a track record of volunteering to build things which will benefit local communities.
"We helped the Town Council draw up the plans for accessing this site some years ago, and when it became clear that budget restraints were holding up getting the project completed, we were pleased to step in and take on the work.
"I am originally from near Beccles myself, so it's a pleasure to be able to do something for the benefit of the town."
Anyone with suggestions on how the community growing project might be developed is invited to share them by emailing admin@beccles.info, or calling 01502 712109.