CHOCKS AWAY! EXTREMELY RARE FIRST EDITION OF FIRST EVER 'BIGGLES' BOOK GOES UNDER THE HAMMER IN NORFOLK
14th Jan 2018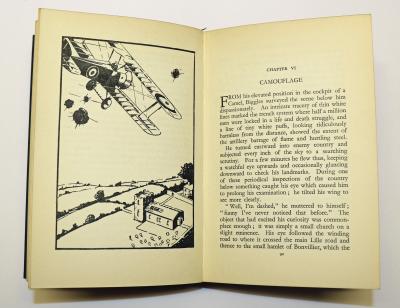 Adventure story buffs and flying fans from around the world will be focussing on a Norfolk auction house later this month when an extremely rare first edition of the first ever 'Biggles' book goes under the hammer at Keys Fine Art Auctioneers in Aylsham.
'The Camels Are Coming' was the first ever book by W.E.Johns featuring Capt. James Bigglesworth ('Biggles') of the Royal Flying Corps.  The book, published in 1932, consisted of 17 short stories featuring the fictional World War One flying ace and his sidekicks Algy, Ginger and Smyth.
It was the first of nearly 100 books featuring the character written by Johns up until his death in 1968, a body of work which was wildly popular in its time, and which is still fondly remembered by a substantial number of enthusiasts.
The extremely rare first edition, published in September 1932, is already causing a stir among Biggles fans, and bidding is expected to be brisk; the book has a conservative pre-sale estimate of £500-£600.
"First editions are always much sought-after, and when it is a first edition of the first book in a hugely popular canon like Biggles, it is sure to elicit massive interest," said Keys head of books and ephemera Robert Henshilwood.
"This volume is already being much talked about on the various Biggles-related internet forums, and we are expecting considerable interest when it goes under the hammer later this month."
The book will be auctioned on the first day of Keys' two day Books, Maps, Prints and ephemera Sale, which takes place on Thursday 25th and Friday 26th January at Key's salerooms at Aylsham.  More details at www.keysauctions.co.uk.
W.E Johns and Biggles
Born in India in 1893, William Earle Johns first served as an infantryman in Gallipolli and Macedonia, before joining the Royal Flying Corps in 1917.  In September 1918 he was shot down over the Western Front; his navigator was killed, but John survived and spent the rest of the war as a prisoner of war.
After finally leaving the RAF in 1927 with the rank of Flying Officer (equivalent to Lieutenant in the RFC - not Captain, the rank he later added to his pen name), he started writing short stories, 17 of which form the first Biggles book, 'The Camels Are Coming'.  He wrote nearly 100 Biggles books before his death in 1968.
There are strong Norfolk links to both W.E.Johns and his fictional creation.  Johns himself was a sanitary inspector in Swaffham before the war, and married in Little Dunham church.  He learned to fly at No.25 Flying Training School in Thetford, and his fictional character Biggles also learns to fly in the county, at the fictional Settling.
The character was featured in 44 episodes of a television series in the early 1960s, as well as a rather unsuccessful film in 1986.
Johns died in 1968 in London, aged 75.