CHARITY'S MOBILE ADVICE UNIT TO PROVIDE ADVICE AND SUPPORT FOR VISUALLY-IMPAIRED PEOPLE RIGHT ACROSS NORFOLK
13th Apr 2021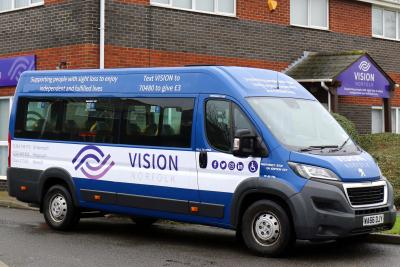 Visually-impaired people right across Norfolk will be able to access information, advice and support close to where they live, as the county's sight loss charity is set to make the most of the relaxing of lockdown restrictions and take its mobile advice unit to towns and villages right across the county.
Staff and volunteers from Vision Norfolk will be available at nine locations over the coming fortnight (starting 19th April), offering practical advice and information about eye conditions, specialist equipment, transport, access to statutory help, and befriending and emotional support.
The charity is also calling on potential volunteers to visit the unit to find out about the rewarding opportunities to work with the charity supporting people living with sight loss across Norfolk, as it seeks to extend its reach right across the county.
The mobile advice unit will be located in the following places over the coming two weeks:
Monday 19th April, 11am-1pm: The Fox Inn, Garboldisham
Tuesday 20th April, 11am-1pm: Baytree Garden Centre, Hillgay, Downham Market
Wednesday 21st April, 10.30am-2.30pm: Bressingham Garden Centre
Thursday 22nd April, 10am-12pm: Market Place, Great Yarmouth
Friday 23rd April, 11am-1.30pm: Budgens Supermarket, Poringland
Monday 26th April, 10.30am-1.30pm: Swaffham Community Hospital
Wednesday 28th April, 10.30am-2.30pm: Wells Community Hospital
Thursday 29th April, 12pm-2pm: Market Place, Great Yarmouth
Friday 30th April, 11am-1pm: Bawdeswell Garden Centre
Vision Norfolk chief executive Gina Dormer said, "Because of Covid restrictions, we have not been able to staff our mobile unit when it has been out and about in the county for the past few weeks.
"Now that lockdown restrictions are being relaxed, we are delighted that we will be able to offer a much wider range of information, advice and support through our staff and volunteers.
"Our long-term aim is to increasingly provide our services out in the community, close to where people live and work, and this initiative is part of our efforts to achieve this.
"We really hope that potential volunteers will come and visit us as well.  The pandemic has reinvigorated the concept of volunteering, and many people have found it a very rewarding and fulfilling thing to do.  Charities like Vision Norfolk depend on an army of wonderful volunteers, and we are hoping to find new volunteers so that we can do even more for the visually-impaired in Norfolk."