BUSINESS PROFESSIONALS GO BACK TO SCHOOL AND COMMIT TO TWO YEAR MENTORING SCHEME TO HELP YOUNG PEOPLE
12th Feb 2017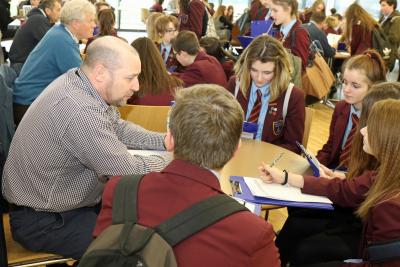 Around 30 professionals went back to school to take part in a 'speed-mentoring' event – the beginning of a two and a half year commitment which will see them mentoring Year 9 students until they finish high school.
In a high-speed event held at North Walsham High School, the business people and employers met groups of students for four minutes at a time, allowing each student to meet every potential mentor before choosing the ones they would like to be partnered with.
This is the fourth year that the school has run the scheme, with more than 100 local business people now taking part in the scheme.  First launched in 2014, the programme has been emulated in many high schools across the UK, as far away as Truro.
Mentors will meet regularly with their students over the next two and a half years, as well as being available via email and telephone, to offer support and advice on qualifications, the skills needed to achieve their ambitions, and to help motivate and inspire them.
The initiative is aiming to help raise aspirations amongst students, as well as equip them with the social skills and confidence they will need in the workplace.
The students met each of the professionals in groups of four and five for just four minutes each, before moving on to the next potential mentor.  At the end of the event, students were asked to choose three employers they would like as mentors, and NWHS staff are now in the process of matchmaking based on their preferences.
"This year's group included some who have acted as a mentor in our scheme before and who have come back to do it again, and others who are new to the scheme," said NWHS assistant head Pete Lambert, who is co-ordinating the scheme.  "What they all have in common is that they have made a big commitment across two and a half years to help our students.
"We know from the students who are already taking part in the mentoring scheme just how valuable they are finding it, and how much it has boosted their confidence and self-esteem.
"Helping young people be ready for the world of work – and just as importantly to realise that they can have high aspirations – is just as important as our core task of helping them achieve the qualifications they will need in later life."
One of those taking part was Roger Smith, North Walsham-based health and safety compliance manager at packaging firm TCL.  A former NWHS student himself, Mr Smith has decided to take part in the mentoring scheme after recognising how much he would have benefitted from it had the scheme been running when he was a student.
"Children need a whole range of support as they progress through their school career, in order to be good rounded individuals.  The school itself can provide the educational and pastoral support, but employers and business people can bring another point of view, and complementary skills from the world of work.
"Some of those who I have met today are very clear what they want to do and very focussed; others are less sure.  As well as equipping them all with the skills they need to enter employment, I see my role as providing positive reinforcement that they should stick with their ambitions – and to help them map out the journey to achieving them."