BAKE-OFF AND DANCE-A-THON HELP RAISE MONEY FOR COMIC RELIEF AT NORTH WALSHAM HIGH SCHOOL
13th Mar 2015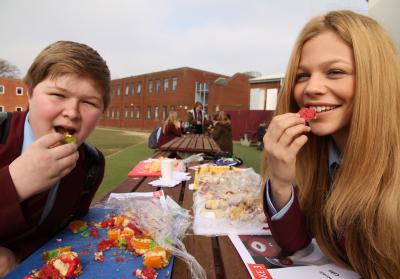 School students were able to play the parts of Paul Hollywood and Mary Berry today (Friday 13th March), as they subjected their teachers to close scrutiny, in the Great North Walsham Bake Off for Comic Relief.
Teachers and staff at North Walsham High School put their baking skills on the line by bringing in cakes for students to judge – with each student judge paying 50p towards Red Nose Day to take part.
Students judged the cakes on both appearance and taste, with all of the entries consumed by the end of lunch break.
The winner of the best looking cake was geography teacher Emma Walker, with head teacher's PA Kathryn Cooper and school events and communications manager Suzie Sharp sharing the honours for tastiest bake.
Students also held their own bake sale to raise money for the charity.
Meanwhile, staff and students joined in the Comic Relief Dance-a-thon, with a continuous dancing session right through the school day, in the cafe in the school's Atrium.  Led by PE teacher Kirsten Abel, a relay of students danced non-stop through the day, joined by other students and staff members during break times.