ARNOLDS KEYS NAMED FUNDRAISING TEAM OF THE YEAR BY LEADING LOCAL CHARITY
24th Oct 2016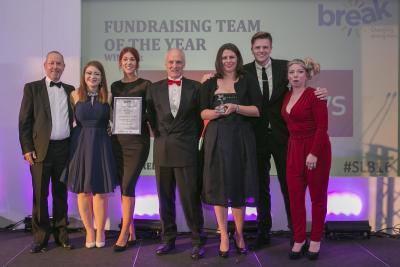 Property services firm Arnolds Keys has been named Fundraising Team of the Year by Break, following a year of fundraising by staff and partners which saw nearly £35,000 raised for the charity, which supports vulnerable young people in Norfolk.
The firm's staff charity committee received the award from TV personality and Break patron Jake Humphrey at a glittering awards ceremony held to celebrate support for Break by companies across the county.
As well as the huge amount raised, Break praised Arnolds Keys' staff 'outstanding group motivation and engagement' throughout a busy year of fundraising.
Break's fundraising manager Martin Green said, "Arnolds Keys has won this award due to their total engagement during the year, with golf days, valuation days, a special auction event, staff bake-a-cake days, and the wider engagement of their offices in the community. 
"They were also wholeheartedly involved in the GoGoDragons project - from working with Keiron Williamson to putting on a major showcase event at Norwich castle. True winners in our eyes!"
Chair of Arnolds Keys staff charity committee Phil Cooper added, "This is a significant recognition for the hard work that the committee and the entire Arnolds Keys staff put into supporting our charity of the year.  The Break team were amazing and we feel honoured to have had the opportunity to work alongside them, be part of the GoGoDragons project and raise money for a truly inspirational charity."
The firm's involvement in raising money for Break continued on the night of the awards, held at Sprowston Manor.  Arnolds Keys commercial management and valuation surveyor Nick Williams stepped in at the last minute to conduct an auction on the night which raised a further £7,000 for the charity.