88 YEAR-OLD CHARITY VOLUNTEER AMONG SPECIAL CHRISTMAS GUESTS AT NORWICH CARE HOME
20th Dec 2019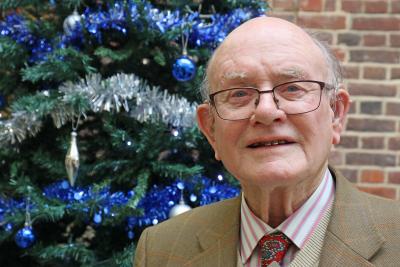 An 88 year-old charity volunteer who would otherwise be spending Christmas on his own is among those taking advantage of a Norwich care home's invitation to those on their own to spend Christmas Day with its residents.
David Benstead, from Thorpe St Andrew, will be one of those spending the 25th at Thomas Tawell House, the care home for visually-impaired people run by the Norfolk & Norwich Association for the Blind, which from the new year will be known as Vision Norfolk.
Last month the charity offered the chance for visually-impaired people who faced spending the festive period on their own to join residents for a traditional Christmas dinner, entertainment and company at the home.
Facing the prospect of his third Christmas alone in his home, Mr Benstead is now looking forward to a Christmas day spent with others.  NNAB volunteers will provide transport to and from the home, whilst staff at the home will cook the festive meal and provide entertainment for residents and those spending the day there.
Although not himself visually-impaired, Mr Benstead cared for his wife, who lost her sight in her later years, before her death four years ago.  Through this, he became familiar with the charity – and after his wife's death decided to become a volunteer to help others living with sight loss.
"Because of what I had gone through with my wife, I have an understanding of the emotional journey that people who lose their sight can go through, and I try to use that empathy and understanding to offer support to others," he said.
"Losing your sight can be very isolating, so having someone to talk to is a vital part of dealing with the situation.
"I like helping other people, and I like to think I'm quite good at it.  It is certainly rewarding; when I leave here to go home, I definitely feel it has been worthwhile."
Originally from Staffordshire, Mr Benstead spent 40 years in the RAF as a technician, with his final posting at RAF Coltishall as a member of 65 Squadron.  When he left the RAF he and his wife made the county their home, and he went on to work for an insurance brokers and for Air Anglia.
"David is a remarkable character, whose first thought is always for other people," said NNAB chief executive Gina Dormer.  "When we realised he would be on his own for Christmas, it was a real pleasure to invite him to spend the day with us at Thomas Tawell House."
Mr Benstead shares that pleasure, saying, "It is really nice to be invited, it has made me look forward to Christmas.  It's the first time in three years I will really have had a Christmas Day.  It's a difficult time to be on your own, when everyone else is having fun."
Thomas Tawell House will be welcoming around a dozen guests to the home for Christmas Day, sharing the day with the home's 28 residents.