£21,120 WINDFALL FOR LOCAL CHARITY AFTER NORWICH FIRM OPENS UP CAR PARK FOR CHRISTMAS SHOPPERS
20th Jan 2017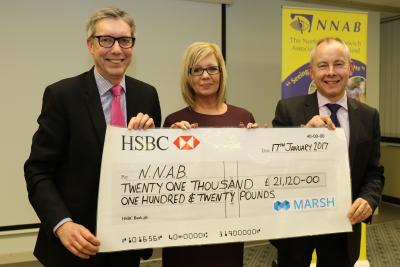 Norfolk's sight loss charity has received a post-Christmas windfall thanks to the generosity of a major Norwich business and its staff – and hundreds of festive shoppers.
Insurance firm Marsh handed over a cheque for £21,120 to the Norfolk & Norwich Association for the Blind after the firm opened up its 347 space car park to shoppers on Saturdays and Sundays leading up to Christmas.
The sum is the highest ever raised in the 26 years that Marsh has been opening its 347 space car park during the festive season in aid of local charities.  The NNAB was chosen as this year's beneficiary after a vote among the 1,000 staff who work at the firm's Norwich Queens Road office.
Dozens of volunteers from among the staff, their families and the charity marshalled the car park, allowing all the money collected to go straight to the charity, which helps people with sight loss enjoy active, independent and fulfilled lives.
Staff at Marsh even volunteered to run an extra session on Christmas Eve to boost the amount raised.
Receiving the cheque from Alan Cross, chairman of the Marsh Sports and Social Club, NNAB chief executive Mike Talbot said, "This is an extraordinary amount of money which will make a huge difference.  Every penny will be spent in Norfolk to support those living with sight loss.
"It is extremely generous of Marsh to allow its car park to be used in this way every year, and it is humbling just how many members of staff and their families volunteered to staff the car park on their December weekends; we are so grateful."
Marsh first opened its car park for Christmas shoppers in 1990, raising £753 on three Saturdays.  In the following 26 years, more than £300,000 has been raised for local charities.